● Massa Marittima :: Duomo
It emerges at the top of a flight of steps in the beautiful Piazza Garibaldi, heart and focal point of the mediaeval city. Built in the 13 C in Romanesque-Gothic style, of note is the beautiful faēade with arches and small loggias surmounted by pinnacles. The pointed bell tower is characterised by a series of fine four-light windows. The three naved interior preserves notable works of art such as the 14 C travertine baptismal font, a 13 C crucifix and the "Madonna delle Grazie" 14 C, attributed to Duccio di Buoninsegna. The Duomo also preserves the "Nativitą" by Rutilio Manetti and on the high altar, the marble sculpture "Arca di San Cerbone", a masterpiece of Siennese school.
● Massa Marittima :: Palazzo Pretorio
13th century building with an elegant faēade adorned by mullioned windows and coats of arms. It houses the "Archaeological Museum" with many Roman and Etruscan finds and the "Pinacoteca" picture gallery where the "Maestą" by Ambrogio Lorenzetti and some works by Sassetta and Sano di Pietro are on display.
● Massa Marittima :: Palazzo Comunale
Romanesque building in the 13 C, created by the merging of three tower-houses.
● Massa Marittima :: Sant' Agostino
Built in Gothic style, the church has a travertine Romanesque faēade with portal, rose window and semi-octagonal abside with arches. Inside are works by Lorenzo Lippi and Rutilio Manetti. More abut the Church and Cloister of Saint Augustine at Massa Marittima.
● Massa Marittima :: Fonte dell' Abbondanza
attractive covered spring (click the picture for a larger view)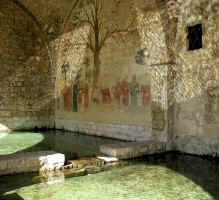 ● Massa Marittima :: Mining museum
consists in a series of underground tunnels recalling the real environment of the mine, with an exhibition of instruments and machinery, as well as a rich collection of stones and ores from the surrounding mining area.
Massa Marittima :: Balestro del Girifalco
The "Balestro del Girifalco" has taken place since ancient times, twice a year on the first Sunday after May 20 and the 2nd Sunday of August. The Balestro is a crossbow competition between the quarters of the city, named " Terzieri", which consists of hitting the target placed at a distance of 36 meters from the start. Each crossbowman, 24 maximum, shoots an arrow. The crossbowman who is able to put the arrow nearest the target centre is the winner. A gold arrow made by an artist, is the prize for the winning arbalester, whereas, the winning quarter receives the "Palio", a painted silk cloth. About 200 people in mediaeval costumes take part in this pageant.

The event starts at 17:30 and ends about 20:00. Tickets are for sale on the same day starting 10:00 in Museo Archeologico in the main square (same square where the event takes place). Numbered seats cost 16 euro, entry tickets to the square where you can seat on the steps of the cathedral if you find room cost 8 euro.
> > > Click the small pictures for a larger view < < <